I woke up this morning to cold floors and chilly air….NOOOO!! Summer can't be ending already! I was just getting ready to enjoy it! Oh well, one thing in life is sure - change happens. We can resist it, but it's inevitable. In my life, a lot more than the weather has changed and is changing! My husband has retired from the military and is now living here in Michigan full-time! Yay!! I don't have to mow the grass anymore!!!  
Autumn is coming...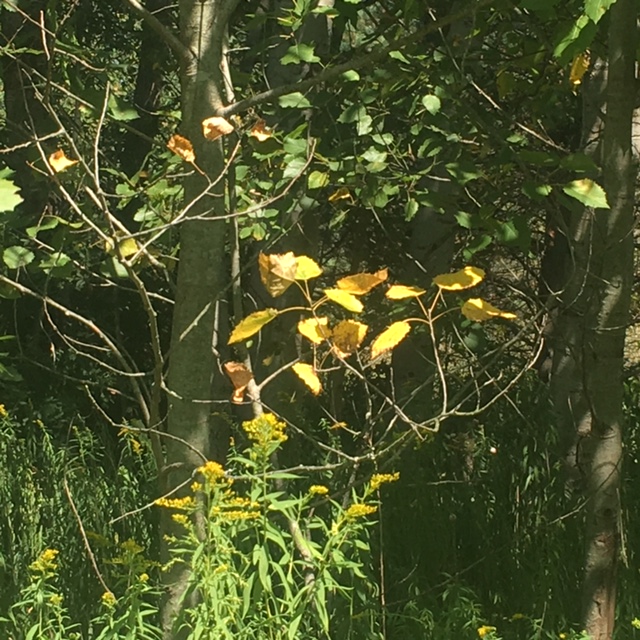 but the chickens don't care.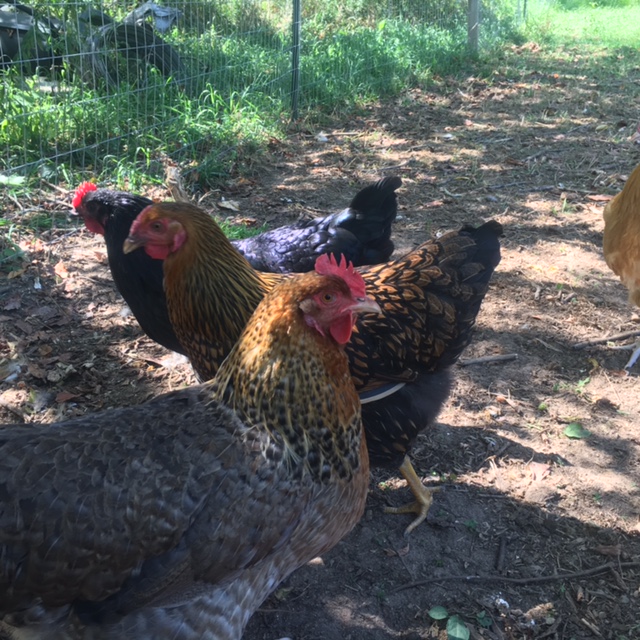 There has also been change in my ministry. I have always wanted to be used to share the love of God through words and music, but the focus of how and where to do that is getting clearer. The desire of my heart is to find the places where Jesus wants to go - where there is the most pain and brokenness - and go there. He uses music and His word to bring His love in whatever form it is needed. Just as Jesus did in the Bible, the Holy Spirit wants to flow through us and bring healing, faith, comfort, and life. Through me, He uses music to do just that. The music may seen frivolous, but it is the heart and soul of the ministry He does through me. Music is His 'secret weapon' which can carry His anointing straight to the heart and do miraculous things. I have given up trying to understand it. I just know it works!  
I was recently at the Hope Rescue Mission in Nashville doing a concert for the homeless population there. The presence of God captivated the room! Afterwards, I prayed with many and was approached by a young man who seemed deeply moved. He said, "I'm not a godly man, but GOD touched my heart today. I feel like I have a reason to get out of bed tomorrow." 
What more can I say? This is my life. This is my joy - to watch God touch hearts and leave them different over and over again. As I continue on this journey, the Lord has assured me that the cost of carrying the gospel will not become less for me...it will become greater. How could it not? The journey of the Cross is a narrow road, and the Lord never promised it would be easy. He did promise to send help when we need it though. Think of the man who was summoned by the guards to help Jesus carry His cross. Think about that....a man helped God fulfill His calling!! I can't really wrap my mind around that, but that story says to me that the Lord will surely send help for me to fulfill my calling when I need it.  
That being said, I have been carrying my cross for a long time and need help, so I am taking a big step out of my comfort zone and asking for it. Humility....hmmmm 
So, here goes: I am entering a season with a lot of conferences on the calendar. I will be speaking to women in several states about transformation in Christ and about living in JOY. One would think I would have mastered these topics by now, but though I am leading, I am still in the school of figuring them out in my own life! Please pray that I will have time and focus to study and pray so I can prepare well. Pray for physical energy and limited distractions. Pray for me to hear from the Lord clearly.  
While I prepare and study, I am also beginning a new musical project. I won't speak too much of that today...I'll save that for next month! Just know it's global, multi-generational, and stretching between the most ancient music of our faith to the most contemporary. It's exciting, but it's expensive as music at a professional level always is. We are beginning to lay the groundwork for recording and aim to release this new work in late spring/early summer 2018. Trust me, this one is worth the wait!  
I love making the music but hate having to pray and believe God for the provision. As a mostly non-profit ministry, I rely on donations and CD sales to fund my travel and music. Please note, I am NOT asking for money! I am asking for prayer that the Lord will direct my steps in this venture and that He will bring the provision in His way and in His time. As the poor widow went to her neighbors asking for jars, I am asking you for your prayers to help me have faith for God's vision, not mine. (trust me, His vision is bigger than my faith right now!) 
So, thank you for your love and your PRAYERS!!! We need the Holy Spirit and each other to fulfill God's plans. Together, let's go carry the cross to which we have been called and appointed.